Release Notes
Version 1.8.0 - 10-May-2021
The main target was to update toolkit and font size for big screen resolutions !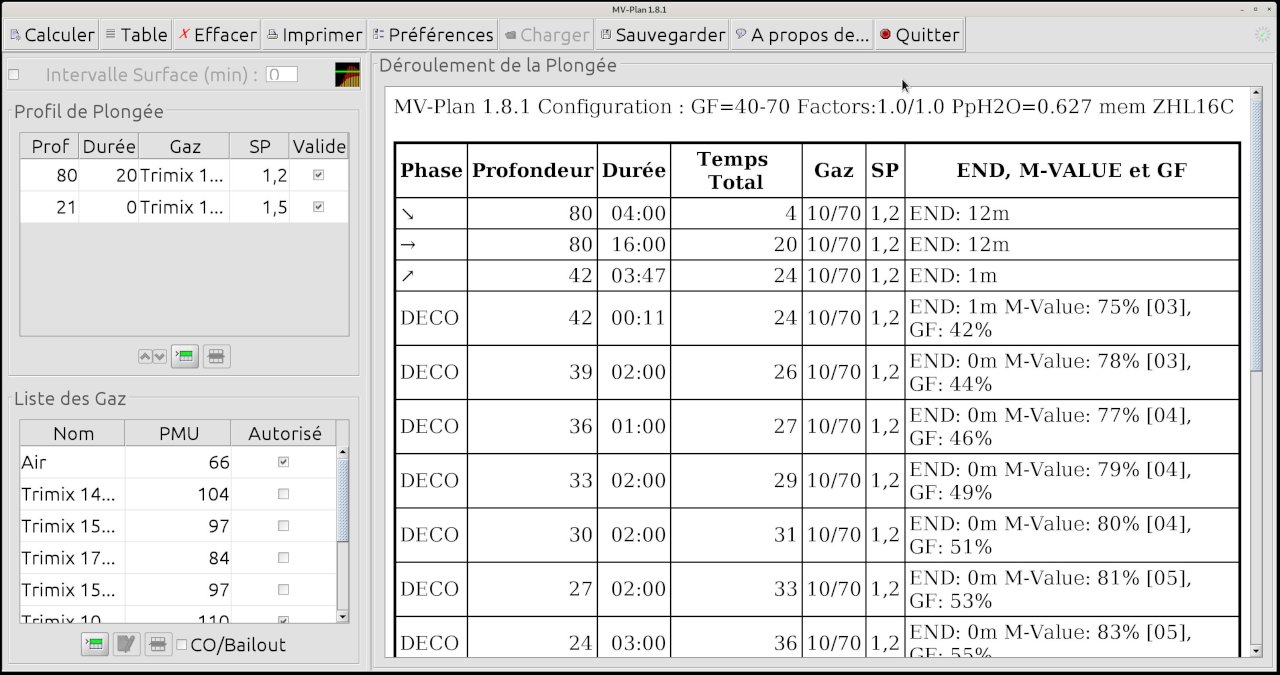 Version 1.6.0-TESTS - 10-Sept-2019
Project restart from old sources found on https://github.com/firegnom/mvplan
Change font size
Change O2/He order on "new gas" popup
Version 1.5.2 - 25-Dec-2010
New option to select ZHL16B or ZHL16C models
Fixed display issues on Snow Leopard
Fixed gas entry dialog rounding
Version 1.5.1 - 26-Aug-2009
FIxed an issue that caused certain gas mixtures to display incorrectly, e.g. 19/29 displays as 19/28. Probably doue to some floating point issues in the latest JVM.
Enabled conservatism factors via configuration file to approximate OSTC algoritm. See manual page 30.
Version 1.5 - 7-Jun-2008
ppO2 slider for MOD selection on Gas screen added
Unit switching on Preference screen fixed
Version 1.4.4 - 13-May-2007
Italian Language pack added (thanks to Maurizio Lucchini)
Added Windows XP look and feel support
Version 1.4.3 - 6-May-2007
Fixed problem with Conditions Acceptance dialog (again).
Version 1.4.2 - 1-Dec-2006
Changed gas selection logic to skip gases that are not required
French language pack added (thanks to Didier A. Defay)
Version 1.4.1 - 13-Sep-2006
Ascent rate adjustment enabled
Fixed problem with Conditions Acceptance dialog
Version 1.4 - 13-Jul-2006
Open source release
Numerous user interface improvements
Tissue status display
Version 1.3.1 - 9-Jun-2006
Fixed input validation error on Preferences dialog
Version 1.3 - 23-May-2006
Support for imperial measurements (feet and cuft)
Support for altitude adjustments
Adjustment to gradient factor calculation for first deco stop
Internationalised for mutiple language support.
Version 1.2.1 - 6-Apr-2006
Selection of dive segment and bug fixes with complex Multi-dive tables
Fixed problem with Show Colour checkbox being disabled
Corrected online version check default URL
Added internationalisation framework (partially complete)
Version 1.2 - 9-Dec-2005
Multi-dive table function added
Print preview window improved with more options
On-line update checking
Re-worked display formats for consistency
Java version check on startup
Checks for never ending deco conditions
Version 1.1 - 23-Jun-2005
Closing the main window now saves preferences
Added font size preference
Reversed the display of Trimix names (to O2/He)
Fixed some small display issues
Version 1.0 - 26-May-2005